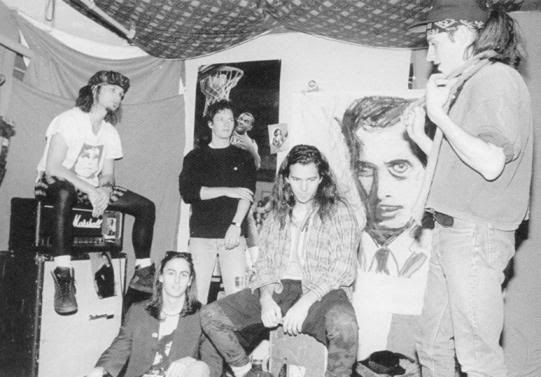 Notas: Esta performance fue muy
dificil para Pearl Jam y muchos del publico por la noticia de la muerte
de Kurt. Fue un show muy tenso y emocional.
Eddie Vedder dice,
"... we are elevated a little more than usual, either that or I've gotten taller. I don't think it's a very good thing to elevate yourself. I think it would be a very dangerous thing... sometimes, whether you like it or not people elevate you ... whether you like it or not, and it's very easy to fall.
So.. uh.. I don't want to be the messenger, somebody who delivers bad news, you know. Kill the messenger, but I don't think any of us would be in this room if it weren't for Kurt Cobain ...
Traducción:
"Estamos un poco mas elevedos q lo usual. es eso, o nos hicimos mas altos. no creo q sea algo bueno, elvearte. Creo q es algo bastante peligroso. aveces, te guste o no, la gente te eleva. te guste o no, y es bastante facil caer. asi que...ehh...no quiero ser el mensajero, el qe de las mlas noticias, ya saben. Pueden matar al mensajero, pero no creo q ninguno de nosotros estaria en este lugar de no haber sido por Kurt Cobain.
(Gracias a lavozdormida por la traducción)
Una increible versión de "Even Flow". las canciones son potentes e
intensas. y terminan con una potente "Rockin' in the Free World "
SET LIST:
Release,
Go,
Animal,
Dissident,
Why Go,
Deep,
Jeremy,
Daughter/(Hey Hey, My My)/(American Pie),
Even Flow,
Breath,
State of Love and Trust,
Footsteps,
Black,
Alive,
Porch/(Tearing)
enc 1:
Rearviewmirror,
Corduroy,
Not for You,
Elderly Woman,
Blood
enc 2:
Indifference,
Rockin' in the Free World
PARTE I
Descarga I
Descarga II
Descarga III
Descarga IV
Descarga V
Descarga VI
PARTE II