Mark Arm: voz y guitarra. Steve Turner: Guitarra. Matt Lukin: Bajo. Dan Peters: Bateria. Seria imposible escribir sobre la escena musical del Noroeste de los Estados Unidos, más especificamente Seattle, sin nombrar a Mudhoney. Mucho más que su aporte como banda, más pesa su contribucion a otra bandas, me explico, los integrantes de Mudhoney, se han caracterizado por estar o haber estado en varias bandas distintas paralelamente a Mudhoney, lo que implica una vasta participación en el auge y ahora exterminio de la escena musical de Seattle, lo que hace de esta banda, uno de los aportes musicales más grandes del movimiento de Seattle, si bien es cierto, poco se sabe de ellos, muy poco en realidad, tanto asi, que mucha gente cree, que esta banda surgio luego del boom de Nirvana, bueno y mucha gente tambien sabe que no fue asi, Mudhoney es de los antecesores de ese episodio a cominezos de los 90, es más son los padres del Grunge, junto a Neil Young, Sonic Youth, Melvins,Green River, etc. Mudhoney se forma en 1989, con 2 antiguos miembros de Green River (Mark y Steve), y los otros 2 provenientes de otras bandas.
El nombre de la banda se debe a una película dirigida por Russ Meyer. Se caracterizan por la fuerza de sus grabaciones, de gran calidad, aunque esto no les sirvió de mucho para lo que querían lograr, llegar a la escena mundial. Su primer disco, llamado "Superfuzz Bigmuff", fue puesto a la venta solo unos meses después de la creación del grupo, y obtiene muy buenas criticas. Entre heavy metal y arte bruto, realzan las guitarras, y el conjunto mezcla de manera alegre la pesadez de Black Sabbath con la energía de los Ramones. Los ojos estaban puestos en Mudhoney, pero sus dos discos siguientes no logran satisfacer los gustos de la gente, momento que fue aprovechado por Nirvana, quienes saltan a la fama y dejan a Mudhoney fuera de carrera. Los discos son "Mudhoney" en 1990 y "Every Good Boy Deserves Fudge" en 1991. Este hecho no los hace perder las ganas de seguir, ellos han formado su camino y no lo abandonaran. Asi que siguen sacando álbumes de manera regular: "Piece of Cake" en 1992, "Five Dollars Bob's Mook Cooker Stew" en 1993, "My Brother the Cow" en 1995.



Extraído de:
"http://artistas.musicamania.biz/mudhoney/"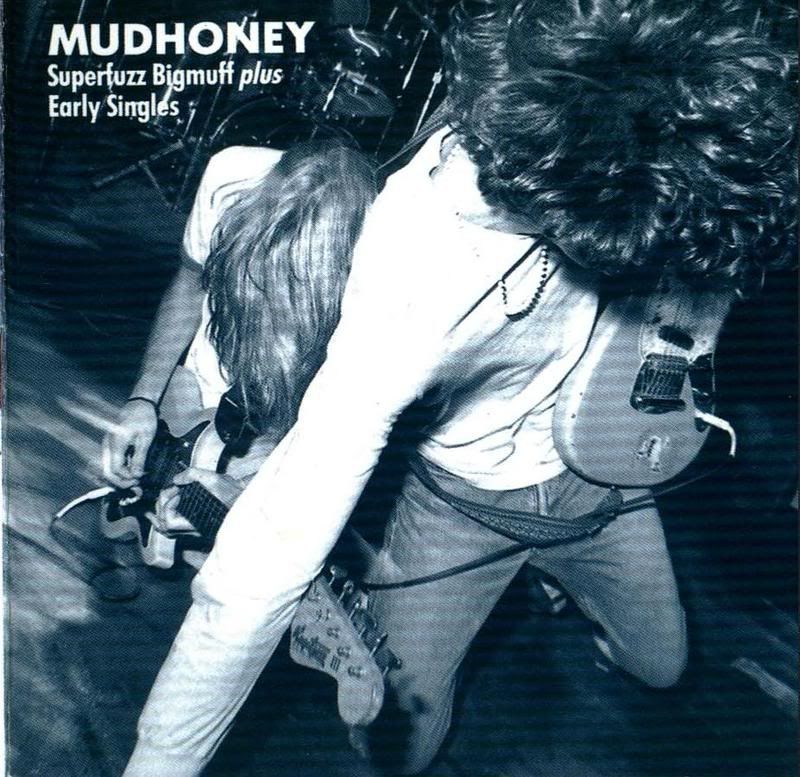 Superfuzz Bigmuff Plus Early Singles (1988)
01. Touch Me I'm Sick
02. Sweet Young Thing (Ain't Sweet No More)
03. Hate The Police
04. Burn It Clean
05. You Got It (Keep It Outta My Face)
06. Halloween
07. No One Has
08. If I Think
09. In 'N' Out Of Grace
10. Need
11. Chain That Door
12. Mudride
DESCARGA ESTE DISCO!!!
Mudhoney (1989)
01. This Gift
02. Flat Out Fucked
03. Get Into Yours
04. You Got It
05. Magnolia Caboose Babyshit
06. Come To Mind
07. Here Comes Sickness
08. Running Loaded
09. The Farther I Go
10. By Her Own Hand
11. When Tomorrow Hits
12. Dead Love
DESCARGA ESTE DISCO!!!
Every Good Boy Deserves Fudge (1991)
01. Generation Genocide
02. Let It Slide
03. Good Enough
04. Something So Clear
05. Thorn
06. Into The Drink
07. Broken Hands
08. Who You Drivin' Now?
09. Move Out
10. Shoot The Moon
11. Fuzzgun '91
12. Pokin' Around
13. Don't Fade IV
14. Check-out Time
DESCARGA ESTE DISCO!!!
Piece Of Cake (1992)
01. Untitled
02. No End In Sight
03. Make It Now
04. When In Rome
05. Untitled
06. Suck You Dry
07. Blinding Sun
08. Thirteenth Floor Opening
09. Youth Body Expression Explosion
10. I'm Spun
11. Untitled
12. Take Me There
13. Living Wreck
14. Let Me Let You Down
15. Untitled
16. Ritzville
17. Acetone
DESCARGA ESTE DISCO!!!
My Brother The Cow (1995)
01. Judgment, Rage, Retribution And Thyme
02. Generation Spokesmodel
03. What Moves The Heart?
04. Today, Is A Good Day
05. Into Yer Shtik
06. In My Finest Suit
07. F.D.K. (Fearless Doctor Killers)
08. Orange Ball-Peen Hammer
09. Crankcase Blues
10. Execution Style
11. Dissolve
12. 1995
13. Untitled Audio
DESCARGA ESTE DISCO!!
Tomorrow Hit Today (1998)
01. A Thousand Forms Of Mind
02. I Have To Laugh
03. Oblivion
04. Try To Be Kind
05. Poisoned Water
06. Real Low Vibe
07. This Is The Life
08. Night Of The Hunted
09. Move With The Wind
10. Ghost
11. I Will Fight No More Forever
12. Beneath The Valley Of The Underdog
DESCARGA ESTE DISCO!!!
Since We've Become Translucent (2002)
1. Baby, Can You Dig the Light
2. Straight Life
3. Where the Flavor Is
4. In the Winner's Circle
5. Our Time Is Now
6. Dyin' for It
7. Inside Job
8. Take It Like a Man
9. Crooked and Wide
10. Sonic Infusion
DESCARGA ESTE DISCO!!!
Under A Billion Sun (2006)
01. Where Is The Future
02. It Is Us
03. I Saw The Light
04. Endless Yesterday
05. Empty Shells
06. Hard-On For War
07. A Brief Celebration Of Indifference
08. Let's Drop In
09. On The Move
10. In Search Of
11. Blindspots

DESCARGA ESTE DISCO!!!
Enjoy!
PD: La información sobre la banda ha sido cambiada debido problemas con la fuente de donde se obtuvo la informacion.